First off:
weigh in
. It was much better this week. I am back down
2.8 lbs
from last Monday. Even though I had gained last week today's weigh in is the lowest weight yet. I have been stuck on a plateau for the past 3 to 4 weeks and I finally feel like I am getting over it. That can also be contributed to me finally getting back into counting points and not eating whatever I feel like.
Here is my WW menu for today:
Breakfast:
Oatmeal
Snack:
Fiber One Bar
Lunch:
Salad with Fat Free Italian dressing
Snack:
100 calorie pack popcorn
Dinner:
Grilled Salmon, broccoli and cheese
Possible dessert:
Fat Free fudge bar
Weekend Review:
Friday night I met Hubs for dinner here: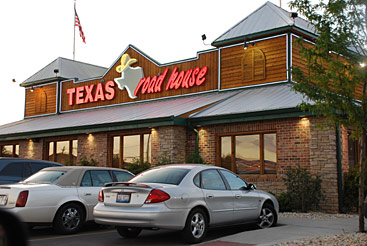 Let me start off by saying that Texas Roadhouse is my favorite restaurant but this time I was very disappointed. My grilled chicken came out pink (they said that it was how all theirs are cooked; don't think so) so of course I sent it back. I ended up eating my baked potato and salad which was plenty. After that we went here
to see
The very old movie theater downtown shows movies that have already left the new theaters but have not came out on dvd yet. The best thing is that the tickets are only $2. And they have cheap concessions too. Hubs and I are huge fans of King of Queens so we were excited to see this movie. It was funny and overall the night was a lot of fun. It was so nice to have a real date with Hubs since we are normally so busy.
Saturday we got up early and went to get breakfast then hit some yard sales (I bought a strapless top to use for laying out; no tan lines), headed to Lowes for some yard supplies, shared some Mexican chicken nachos for lunch, and then Hubs worked in the yard while I went and laid out in the sun with mom. That night we grilled steaks and watched the race.
Sunday we went to church and Sunday school. That afternoon we had a family get-together at my grandmother's house.