I have done a must-have beauty post before but since Kelly @
Kelly's

Korner
has asked us to share our favorite products I thought I would do it again.
I know that I am only 27 but I still have dark circles under my eyes. To help hide them some I use Mary Kay's yellow concealer. I have been using it for years. Its also great for helping cover up the redness in unwanted blemishes. A tube will last forever since you only have to use a tiny dab.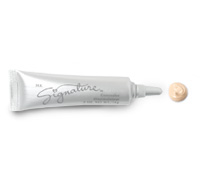 Someone once told me that " a proper Southern lady always keeps her toenails painted". Since I consider myself a proper Southern lady I have always kept this rule. I also keep my fingernails painted most of the time. I love
Ulta's
nail colors. They have tons to choose from and at $5.00 each you can afford to buy as many as you want.
Another beauty staple for me is
Clinques
city-base foundation. It comes in a handy little compact and serves as my foundation and powder. I love the
convenience
of it and it hardly feels like your wearing anything at all.
I would have to say that my number one beauty products all deal with my hair. I am a natural curly-haired gal and lots of products just make my hair feel heavy and stiff. I LOVE the Aussie product line. I use their shampoo, conditioner, spray gel, and hair spray. Plus they all smell like the beach and who doesn't love that.