1) What is your favorite Easter candy?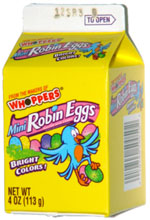 and
2. Who do you think is cleaner..men or women?
depends on the person but I would say women

3. Which do you prefer..wordy blog posts or ones with pictures?
blogs with pictures

4. Were you popular in highschool?
YES, I am from a small town and my high school was very small.
My graduating class only had 80 people in it.

5. What's your bra size?
36 C with push ups please

6. How many states have you lived in?
just one, good ole North Carolina. I was born and raised as a Carolina Girl.

7. What's one blog you read every day?
I have gotten pretty bad about blogging now that softball season has started so there isn't one that I read everyday.

8. Peanut butter or Nutella?
Peanut butter, I don't like Nutella at all.