I knew it would be bad... just not this bad. Hmmmm, I weigh 210 pounds. Yes, unfortunately your eyes are not playing tricks on you. And sadly this is not my heaviest. A month ago I weighed 216 and started walking again and dropped a few pounds. I have to do something. That is such an unhealthy weight for my 5'6" frame. I ideally would like to get down to 155 or 160 (although I would much rather get pregnant before then). My goal for January is to lose between 10 and 15 lbs. Hubs stands 6'5" and weighed 348. His goal is to lose between 15 and 20 lbs this month. We started WW this morning and will enjoy our first night at the YMCA together tonight. Sweet
Kendra
is going to be my WW buddy. Kendra, you better keep me in check. As you can see I need all the help I can get.
On a lighter note, The Bachelor begins tonight. I am so addicted to this show. Isn't he a sweetie?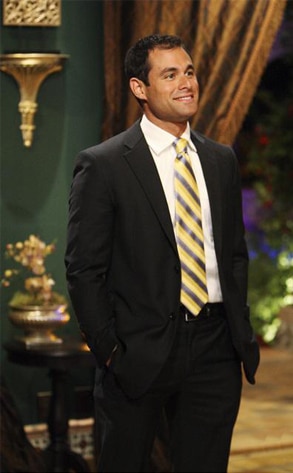 And I plan on watching this show too. Possibly for some motivation.
* Added*- I just wanted to add that I have gained all this weight since we started TTC. Each month my mindset was "well, what if I am pregnant. I should be able to eat anything that I want". Which was certainly not healthy, even if I was pregnant. And so since April 2008 I have gained 40 lbs. Really fast. I am not hopeful that I will lose it as fast but I am sticking this out for the long haul. Not only will I feel and look better but it will also be healthier for when I do get pregnant. And may even help me get that.